Hoi, I'm wondering what causes stuff to never stop happening, because we've got loads of it again. This week there is some great news for people with boring jobs, mac users and even ourselves!
Radical Fishing has been released! The first Flash game we've made as Vlambeer is now available on bored.com.
As you might know it is a game about our hero Billy, who goes on a fishing trip. You catch rare species, throw them in the air, shoot the crap out of them, buy new upgrades, and make a damned lot of money.
We have also just released the Mac OS X version of Super Crate Box, available for OS X 10.5 and higher! We wanted to get it out there to you people, so we got everything working, except for the online highscores, some minor sound glitches and limited gamepad support. There might be some other problems we don't really know about yet, but we'll try to fix those soon, before we get too busy with our next project.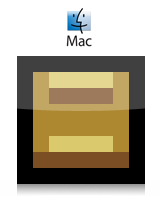 Get it from the download page!
Now that we are definitely staying in this office, we've started decorating it with posters, more empty bottles and the awesome papercraft by John Gottschalk. He decided to donate it to us, for which we give him this heart:  <3
Here is a picture of the papercraft celebrating with the little crate cakes we shared around the building. Do notice the excellent wrong colors!
Oh, and space murder.  It's as almost done as it was 5 days ago, and we still need a name!